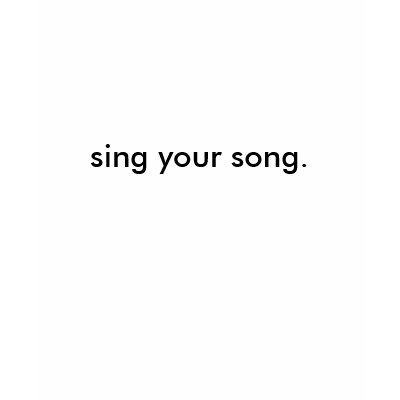 A few months ago I preached a message about how the devil tries to steal our song, our joy, and how we have to stand our ground and proclaim that he can't have our song. This week, I've had so many conversations with people who are road weary,

confused and weak, and quite honestly, many of them have relinquished their song.

The psalmist wrote in Psalm 40:1-3
1 I waited patiently for the LORD; and he inclined unto me, and heard my cry.

2 He brought me up also out of an horrible pit, out of the miry clay, and set my feet upon a rock, and established my goings,

3 And he hath put a new song in my mouth, even praise unto our God: many shall see it, and fear, and shall trust in the LORD.
Our story is ou

r song. When we call to remembrance

where the Lord has brought us from, what he has delivered us from, how he set us free... we have a song, a story! That song, as we rehearse it brings us joy; joy that we are no longer in bondage of sin, no longer walking dead people, but we have been quickened and are alive in Christ! That is joy... and the Word tells us... "the joy of the Lord is my strength!"

Some of us need to remember the pit of despair he brought us out of, how we were sinking deep in the miry clay of sin, he caused us to stand upon the rock of our salvation and he has established our goings. You may be one saying that you are confused right now and not understanding things... GOOD!!!!!

What does the Word say?

"Trust in the Lord with all of your heart,

lean not on your own understanding...

acknowledge Him in all your ways and he will make your path straight! When you can't figure it out, can't understand things... can I tell you that you are in the perfect place for our God to show up and show out! Let Him!

How you say? Reclaim your song... and sing it out! Live it out!
And serve notice on the enemy... "Devil, you can't have my song!"